---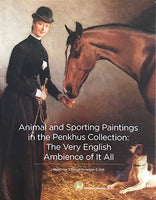 The Charleston Collects series at the Gibbes aims to highlight significant fine art collections formed by Lowcountry residents. This exhibition features exceptional British sporting art paintings from the private collection of Charleston's Dr. Stephen and Mrs. Martha Penkhus.
The Penkhus's collecting journey began in 1986 when they purchased a portrait of the famed nineteenth-century English racing horse Cotherstone, by John Frederick Herring, Sr. (British, 1795–1865). Their passion for British sporting art and culture blossomed taking them on many unexpected adventures that have led them to build a first-rate collection of animal and sporting paintings. The works provide glimpses into the English countryside, its occupants and their activities from 1800 to the present. The collection includes paintings by notable English sporting painters including Frederick Herring, Sr. (1795-1865), James Ward (British, 1769–1859), and Sir Alfred Munnings (British, 1878–1959) and many more.
This exhibition is sponsored by Nina Rumbough and Jan Roosenburg.
Paperback.