---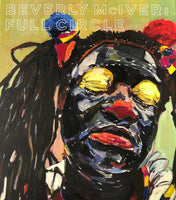 This survey exhibition captures the arc and continued ascent of contemporary artist Beverly McIver.
  This exhibition catalog accompanies a survey exhibition of contemporary artist and painter Beverly McIver. Curated by Kim Boganey, this exhibition represents the diversity of McIver's thematic approach to painting over her career.
 
From early self-portraits in clown makeup to more recent works featuring her father, dolls, Beverly's experiences during COVID-19 and portraits of others, 
Full Circle
 illuminates the arc of Beverly McIver's artistic career while also touching on her personal journey. McIver's self-portraits explore expressions of individuality, stereotypes, and ways of masking identity; portraits of family provide glimpses into intimate moments, in good times as well as in illness and death. The show includes McIver's portraits of other artists and notable figures, recent work resulting from a year in Rome with American Academy's Rome Prize, and new work in which McIver explores the juxtaposition of color, patterns, and the human figure. 
Full Circle
 also features works that reflect on McIver's collaborations with other artists, as well as her impact on the next generation of artists. The complementary exhibition, 
In Good Company
, includes artists who have mentored McIver, such as Faith Ringgold and Richard Mayhew, as well as those who have studied under her.
 
This catalog includes a conversation with Beverly McIver by exhibition curator Kim Boganey, as well as two essays: one by leading Black feminist writer Michele Wallace, daughter of Beverly's graduate school mentor Faith Ringgold, and another by distinguished scholar of African American art history Richard Powell.
 
Published in association with the Scottsdale Museum of Contemporary Art
 
Exhibition dates:
 
Scottsdale Museum of Contemporary Art February 12—September 4, 2022
Southeastern Center for Contemporary Art December 8, 2022–March 26, 2023
  The Gibbes Museum April 28–August 4, 2023