---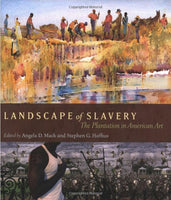 Bridging art history and social history, Landscape of Slavery undertakes an original study of plantation images from the eighteenth century through the present to unravel the realities and mythology inherent in this complex and often provocative subject. Through eighty-three color plates, nineteen black-and-white illustrations, and six thematic essays, the collection examines depictions of plantation structures, plantation views, and related slave imagery and art in the context of the American landscape tradition, addressing the impact of these works on race relations in the United States. Created by artists as diverse as Thomas Coram, Louis Rémy Mignot, Dave "The Potter" Drake, Eastman Johnson, Winslow Homer, Alice Ravenel Huger Smith, Thomas Hart Benton, Hale Woodruff, Aaron Douglas, Juan Logan, Joyce Scott, Carrie Mae Weems, Radcliffe Bailey, and Kara Walker, the wide range of objects discussed includes paintings, drawings, photographs, statuary, ceramics, and items of folk art.

A genre predominantly tied to the American South, the plantation view has received slight attention in the study of American landscape art. Regarded by art historians as derivative of the early-eighteenth-century British estate view, the plantation image straddles the aesthetic boundary between topographical depiction and landscape painting. In recent years, however, plantation views have increasingly attracted the attention of social and cultural historians who have identified the genre as a rich source for exploring themes of wealth, power, race, memory, nostalgia, and conflict. Landscape of Slavery provides a comprehensive and interdisciplinary examination of the aesthetic motives and social uses of this art in the shaping of Southern history and culture. The contributors analyze depictions of white dominion, Southern affluence, and the idealizing nostalgia of the post-Civil War era as well as the black aesthetic that has developed as a dissident counterpoint to this tradition.

Serving as a companion to a traveling exhibit of the same name, the volume includes a foreword by Todd D. Smith, former executive director of the Gibbes Museum of Art in Charleston, South Carolina; an introduction by Angela D. Mack, current director of the Gibbes; and essays by John Michael Vlach, Roberta Sokolitz, Leslie King-Hammond, Maurie D. McInnis, Alexis L. Boylan, and Michael D. Harris.
Hardcover.